Volume 5 – A New Beginning
| | | |
| --- | --- | --- |
| Available Languages | | Translation in Progress |
| | | |
| • FR: "Chroniques de Galadria V – Un Nouveau Départ" | | • IT: "Cronache di Galadria V – Una Nuova Partenza" |
| | | |
| • ES: "Crónicas de Galadria V – Una Nueva Partida" | | • EN: "Chronicles of Galadria V – A New Beginning" |
| | | |
| | | • PT: "Crónicas de Galádria V – Começar de novo" |


The 5th volume of the Chronicles of Galadria in the available languages listed above can be found as an e-book on every major retailer's website (Apple, Amazon, Kobo, etc.).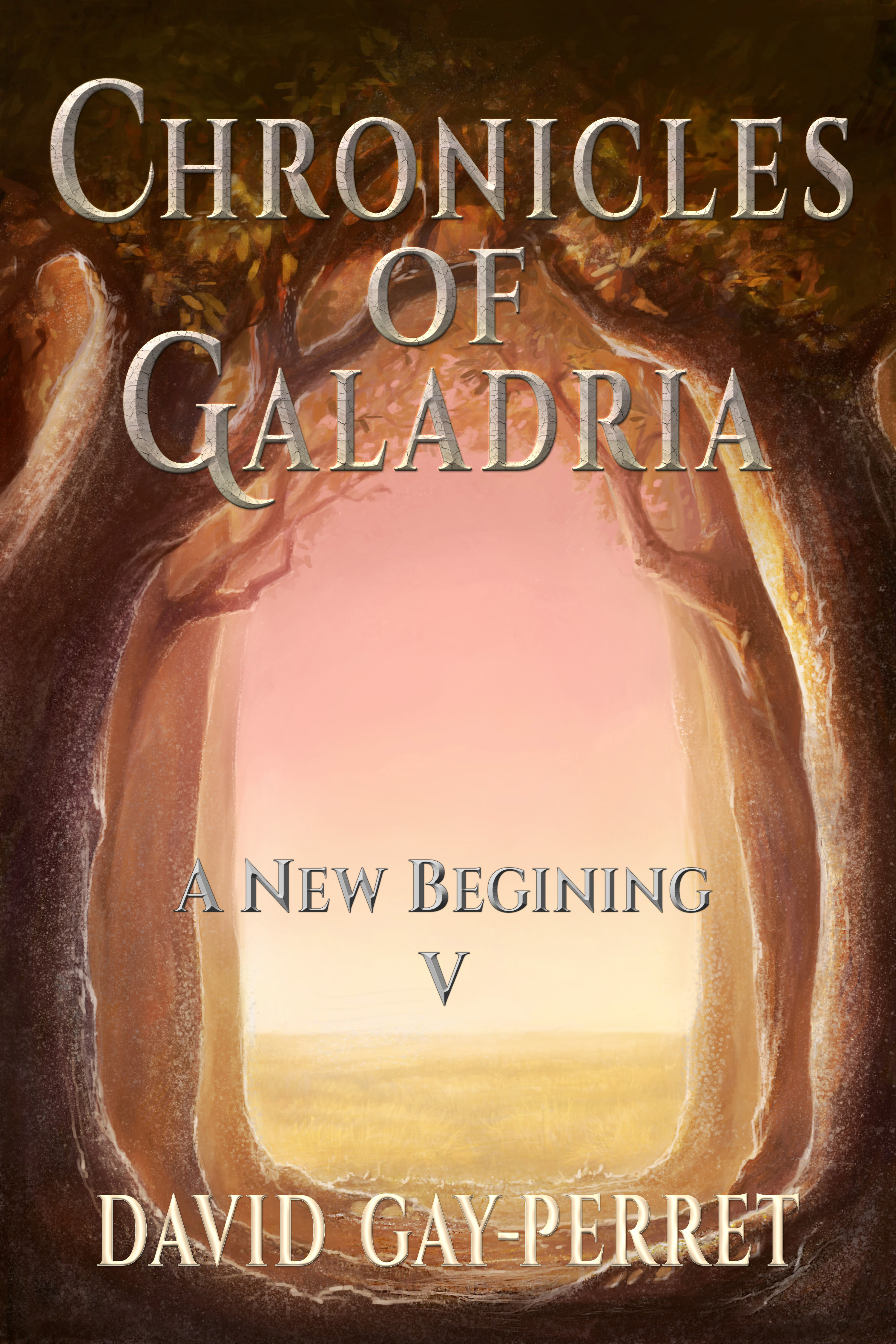 Summary
The time for frivolity has come to an end. By choosing to leave Menrick behind, Glaide also chose to give up the future she offered: peaceful, away from the world's torments, but also away from his friends and, in a way, from his dream… Taking on the role of the Destroyer is therefore his choice henceforth, and no longer a burden he was forced to carry, and it is with that in mind that he must decide what to do next.
And so the young man is back on the road, alongside his friends this time and a new comer with formidable fighting skills. Their goal is to reach Shinozuka since Glaide has decided that it was time to officially announce the coming of the Destroyer and thus sparkle a chain of events even he has a hard time foreseeing.
Glad to be reunited once more, Glaide and his companions will soon understand that if they want to continue their quest, the first step will be to gather their allies: an opportunity to meet old friends and to measure the impact they have had so far on Galadria. However they will not be alone: through their travels they will cross path with two other warriors with incredible skills.
Their community grows and Glaide must learn to live in a group again: the responsibility of other lives to take on his shoulders, of new decisions to make and new problems to face in front of some internal hostilities… But also the relief of being able to count on others and share his doubts, or the simple joy of having someone to talk to and laugh with during the journey, before going to sleep under the stars.

And as old friends enjoy a reunion that looks a lot like a new start and share the tales of the last months' adventures, the shadow of the coming battles grows… Glaide feels his role becoming heavier and he beholds with dread and curiosity the coming events: curiosity because he is still able to remember he is on the Other World and every moment is a blessing, and dread because he knows it is his task to build the future…
******

"The Chronicles of Galadria" tell the story of Glaide, a young man who fulfills his dream by traveling to another world, and therefore the story is centered around what happens to him and how he experiences it, along with his way of thinking. This allows the reader to understand what guides him, what gives him doubts and strength, and creates a character that the reader can identify with.
Therefore "The Chronicles of Galadria" are on a mission to give the reader both a Heroic Fantasy epic adventure in six volumes full of encounters, action and emotion as it should be, as well as a deeper, coming-of-age story that questions our manner of thinking and perceiving our own lives, where the obstacles the hero faces remind us of what we live.
This story can be enjoyed for one or the other of these two aspects, but it reveals its true scale and meaning only when both are combined.