Volume 4 – Tranquility
| | | |
| --- | --- | --- |
| Available Languages | | Translation in Progress |
| | | |
| • EN: "Chronicles of Galadria IV – Tranquility" | | |
| | | |
| • ES: "Crónicas de Galadria IV – Despreocupación" | | |
| | | |
| • FR: "Chroniques de Galadria IV – Insouciance" | | |
| | | |
| • IT: "Cronache di Galadria IV – Spensieratezza" | | |
| | | |
| • PT: "Crónicas de Galádria IV – Tranquilidade" | | |


The 4th volume of the Chronicles of Galadria in the available languages listed above can be found as en e-book on every major retailer's website (Apple, Amazon, Kobo, etc.).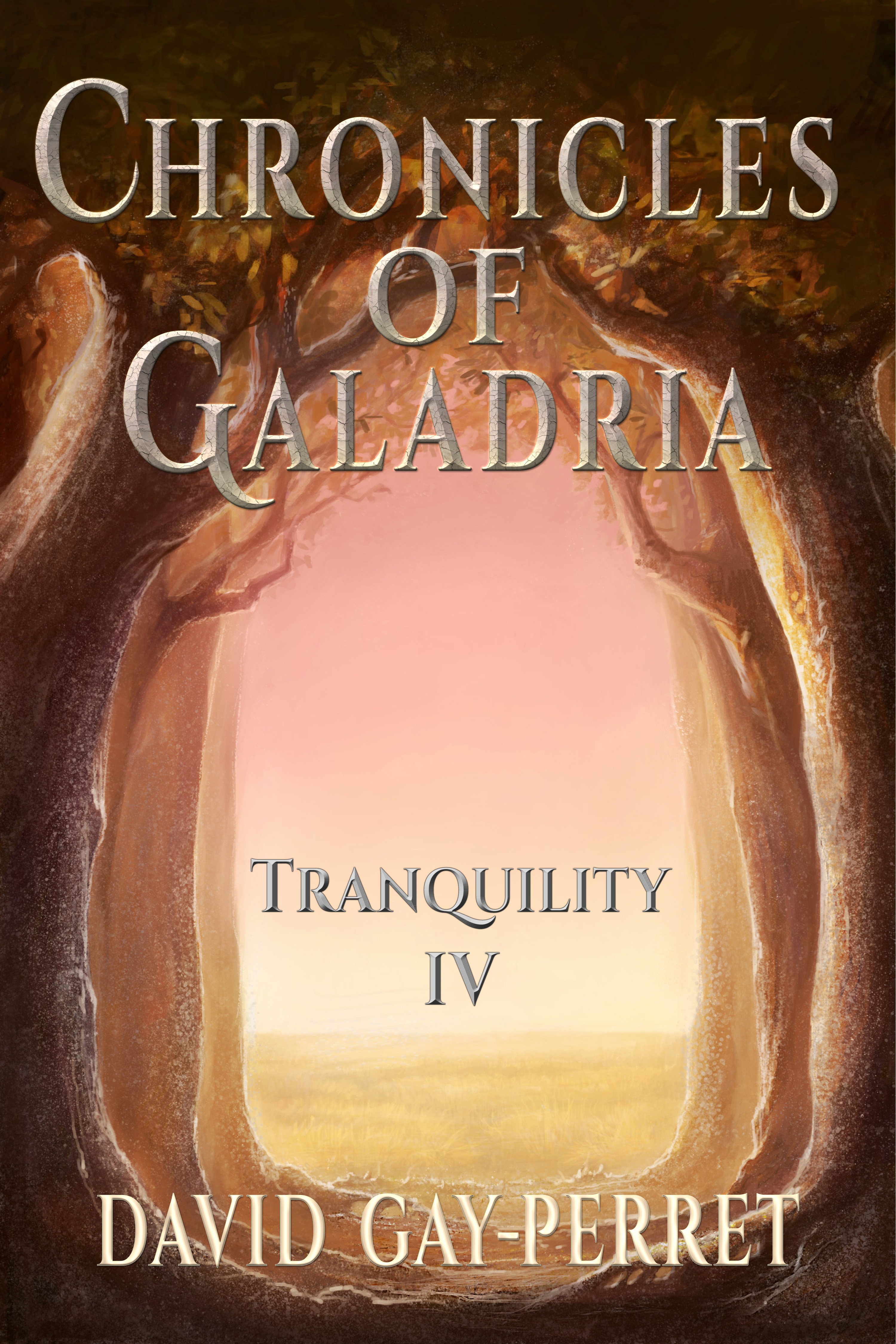 Summary
After several long months spent doing everything Kezthrem told him to, Glaide has finally reached the end of his training. He knows how to use a sword, his master has listened to and answered his questions, helping him to grow and gain wisdom, he's gained knowledge of the world — thanks to Ralon and Koeris — and he has learned to see Galadria and the role of the Destroyer differently, thanks to the many people he has come across on the road. All of that has given him a level of discernment that will help him in his quest, even if it brought sadness and fear with it.
Now, the time has come to return to the road. He must, first and foremost, find his friends, who he left behind what seems like an eternity ago. To do that, and despite the warnings of his master, Glaide heads towards Zakorth, which is the only city in all of the Known Lands that belongs to the enemy, but which is also the one place he thinks he might find information about his three friends…
Confident about the future and his new knowledge, the young man will discover that, although what he'll find at his destination is much different from what he came looking for, for the first time he'll be able to claim his place on Galadria by consciously choosing how to react in situations involving the people around him. His actions will prove that he is no longer the enthusiastic but ignorant boy blown here and there by events and the instructions of his master, making decisions that affected no one but himself. And it is Glaide, and not the Destroyer, that the people he meets will remember…
When he decides to help a young stranger return home, he will find in it an opportunity to distance himself from his quest, at least for a little while. He will discover a possible life for himself that is far removed from the adventure and torment his quest brings with it, and that realization will bring him to a crossroads, where he must choose to follow or give up the quest of being the Destroyer. Whatever his decision, he will have to take responsibility for it and face the consequences.
Though still happy to be on Galadria, the tranquility that will make his journey so magical will not be that of a boy unaware of his surroundings, but that of a man who has chosen to savor the moments of peace that Destiny offers him.
******

"The Chronicles of Galadria" recount the story of Glaide, a young man who lives out his dream of visiting the "Other World", and for this reason, the story is centered on what happens to him and how he experiences this world, along with his thoughts. This allows us to understand what guides him, where his doubts and strength come from, and makes him a character we can easily identify with.
In this way, "The Chronicles of Galadria" expose the reader to both an epic fantasy adventure in six volumes, full of encounters with new people, action, and drama fitting to the genre, as well as a deeper, more profound "coming of age" story that will make one question their way of thinking and perceiving life, where obstacles encountered by the hero remind us of things we experience in our own lives.
This story can be enjoyed for one or the other of these two aspects, but its true depth and meaning can only be seen and enjoyed when both sides of the tale are experienced together.