Volume 3 – Lessons
Available Languages

Translation in Progress

• EN: "Chronicles of Galadria III – Lessons"

• ES: "Crónicas de Galadria III – Enseñanzas"

• FR: "Chroniques de Galadria III – Enseignements"

• IT: "Cronache di Galadria III – Insegnamenti"

• PT: "Crónicas de Galádria III – Ensinamentos"


The 3rd volume of the Chronicles of Galadria in the available languages listed above can be found as an e-book on every major retailer's website (Apple, Amazon, Kobo, etc.).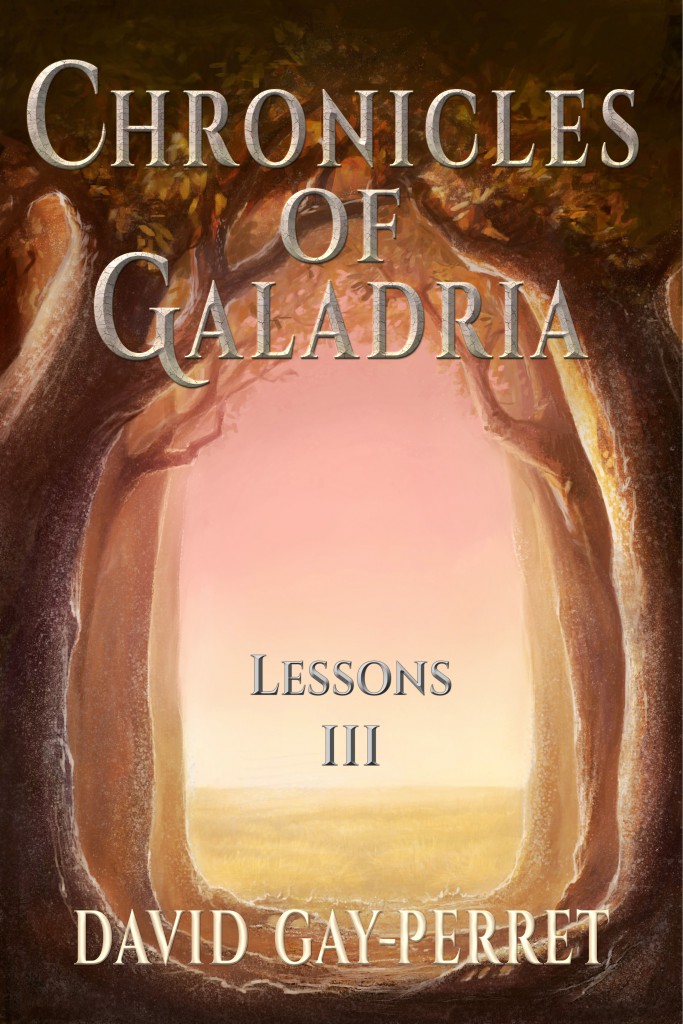 Summary
After having wandered aimlessly for a time, and having some encounters with potentially far-reaching consequences, finding the man he sought for so long, and spending several months learning from him, Glaide has finally learned how to wield a sword, and his knowledge has grown. However, practice makes perfect, and the young man still has much to learn about Galadria, if he means to take on the role that he's been given. It's for these reasons that Kezthrem decides to lead him on a journey towards the border of the Known Lands, towards a land forgotten by all.
And so begins a new journey with a mysterious destination. Alongside the theoretical and academic knowledge the young man hopes to discover when he reaches his goal, he will also learn some more personal life lessons, as he and his master encounter different people who've experienced the torments of their world. Indeed, as the months pass, Glaide begins to see Galadria in a more realistic light, instead of as a dream become reality, and in the light of this newly acquired lucidity, the encounters he's about to have will give him a new perspective on the importance and impact his quest to be the Destroyer will have.
While Glaide continues to savor every moment of his life in the Other World, he also begins to understand how vital of a lesson it is for him to see through the eyes of the people of Galadria and comprehend the magnitude of his task, in order to carry out more notable and purposeful actions.
******

"The Chronicles of Galadria" recount the story of Glaide, a young man who lives out his dream of visiting the "Other World", and for this reason, the story is centered on what happens to him and how he experiences this world, along with his thoughts. This allows us to understand what guides him, where his doubts and strength come from, and makes him a character we can easily identify with.
In this way, "The Chronicles of Galadria" expose the reader to both an epic fantasy adventure in six volumes, full of encounters with new people, action, and drama fitting to the genre, as well as a deeper, more profound "coming of age" story that will make one question their way of thinking and perceiving life, where obstacles encountered by the hero remind us of things we experience in our own lives.
This story can be enjoyed for one or the other of these two aspects, but its true depth and meaning can only be seen and enjoyed when both sides of the tale are experienced together.