Volume 6 – Hope
| | | |
| --- | --- | --- |
| Available Languages | | Translation in Progress |
| | | |
| • ES: "Crónicas de Galadria VI – Esperanza" | | |
| | | |
| • FR: "Chroniques de Galadria VI – Espoir" | | |


The 6th volume of the Chronicles of Galadria in the available languages listed above can be found as an e-book on every major retailer's website (Apple, Amazon, Kobo, etc.).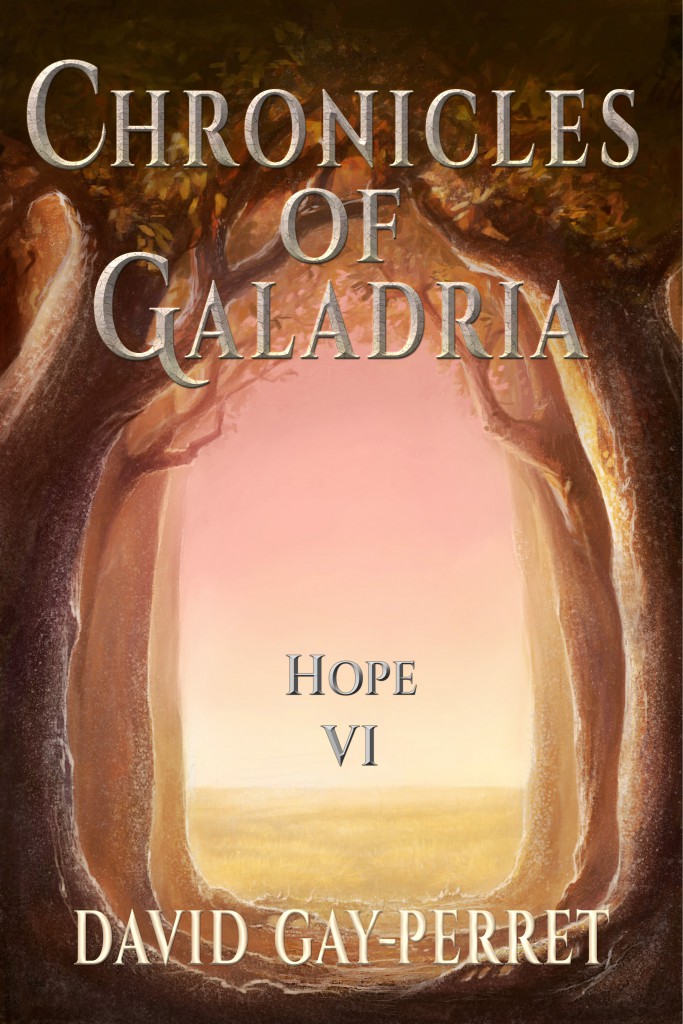 Summary
The two Maggs and their Protectors, now numbering five people, have roamed the Known Lands looking for support after Glaide announced he was the Destroyer and thus sparkled a chain of events leading inevitably to a confrontation between Men and their allies, and the army of Baras…
Yet these travels have also been an opportunity for the four teenagers and their three new friends to become closer, to go beyond internal hostilities and the differences in the reasons behind their decision to join the group, in order to unite behind Glaide and support him in his role.
And this support is necessary now more than ever, as Shinozuka holds its breath, awaiting potential allies and the very certain arrival of the enemy…
Now immersed in his role of Destroyer, Glaide feels on his shoulder the weight of all the lives involved in the conflict to come. For war is at the gates of Shinozuka and there will be victims before this is all over. Even worse: the young man does not forget that a victory will be meaningless if he cannot destroy Baras, and he must still find out where he is and hope that, when the time comes, he will prevail… Will he be able to count on his skills as a Destroyer? After all, up to this point his status does not seem to have given him anything special, apart from a blind faith from his allies…
As the last elements fall into place, it becomes more and more difficult for Glaide to keep a distance with what happens: can he still find the strength to consider his life a dream when he is the one who sparkled all the tragedies about to unfold? And will the few moments of peace with his friends, when he remembers he is still on the Other World, suffice to face the outburst of violence, pain and the revelations awaiting? In the end he will only have one feeling left, a feeling he never really had the need for since he came to Galadria: hope… Hope that he and his friends will survive the coming events, hope of a victory, and most importantly hope that all of this was worth it…
******

"The Chronicles of Galadria" tell the story of Glaide, a young man who fulfills his dream by traveling to another world, and therefore the story is centered around what happens to him and how he experiences it, along with his way of thinking. This allows the reader to understand what guides him, what gives him doubts and strength, and creates a character that the reader can identify with.
Therefore "The Chronicles of Galadria" are on a mission to give the reader both a Heroic Fantasy epic adventure in six volumes full of encounters, action and emotion as it should be, as well as a deeper, coming-of-age story that questions our manner of thinking and perceiving our own lives, where the obstacles the hero faces remind us of what we live.
This story can be enjoyed for one or the other of these two aspects, but it reveals its true scale and meaning only when both are combined.